Manage all the information tied to each entity.
The Entity View displays all of the information contained in one entity. Some features of this view include modifying attributes, creating new and modifying existing relationships, assigning labels, and running reports.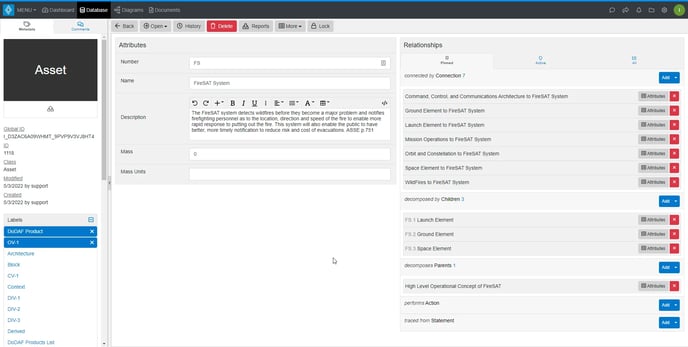 Navigation
To navigate to Entity View, select an entity and find the open dropdown button on the toolbar. When the open dropdown is opened, click on the drop-down option 'Entity View.'
General Functions
Auto Number: Auto numbers the root entity and its childrenChoose
Labels: Add and remove labels from the entity
Delete Entity: Delete an entity from the database
Duplicate Entity: Create an identical copy of the entity
Lock Entity: Prevent any new changes on the entity
Add an Image: Choose an image to show for the entity
Restore Entity: View entity history and restore to an earlier point
Report Entity: Generate and download reports of the entity
Set Attributes: Set attribute fields of the entity
Transform Entity: Transform the entity to a new class and copy over attributes
Change Requests: Create or review change requests based on user role.
Relationships Functions
Add Relationships: Add relationships to existing and new entities
Edit Relationships: Edit existing relationships between entities
Delete Relationships: Delete relationships between entities
To continue learning about Entity View, Click Here.
(Next Article: Entity Management)