An Innoslate organization is a collection of projects, users, teams, and roles.
Concepts Available in this Section
| Feature | Description |
| --- | --- |
| Introduction | Organizations in Innoslate function as structured groups that can be created and managed, promoting team collaboration and enhancing project execution. |
| Switching Organizations | Switching organizations in Innoslate enables users to seamlessly navigate between different organizational sandboxes they are a part of. |
What is an Organization?
An Innoslate organization is a collection of projects, users, teams, and user roles. These organizational sandboxes generally serve as representations of a company, business unit, or team.
Each organization is assigned a unique URL slug, name, and optional description. Moreover, it has its dedicated database that is isolated from other organizations. Furthermore, there is a roster of users who are authorized to access that specific organization. These users are granted access and supervised by an organizational administrator.
Expanding on the Layer Diagram from the Concepts Page, you'll see the organizational structure mentioned above in the Layer Diagram below with users, projects and a team .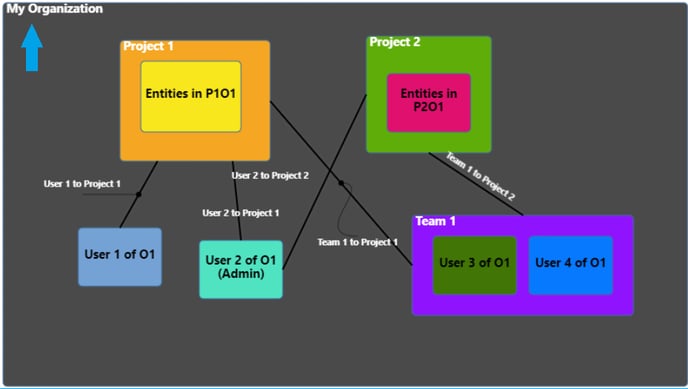 P1 = Project 1, P2=Project 2, O1= My Organization
Within an organization, organizational administrators have the ability to configure teams, modify or add custom roles, control user access, and assign user licenses. When adding a user to an organization, you have the option to grant them organizational roles which include Admin, Member, or Reviewer. Granting a user an Admin role provides them with access to the organization's Admin Dashboard, allowing them to administer the organization's users and access all projects created within the organization. Members of an organization can create projects and view projects that have been shared with them. Reviewers of an organization, on the other hand, cannot create projects but are able to view, comment on, and submit change requests for shared projects.
For more information on managing your organization, please refer to the Administrator's Guide.
Switching Organizations
1. To switch the organization you are working on in Innoslate, click the 'Manage Projects' button from the organization dashboard and continue to step 2.
From any other view in Innoslate, click the 'Switch Projects' folder icon in the top right corner. From this menu, you can either click the project you want to view in the appropriate organization or click 'Manage Projects' and proceed to step 2.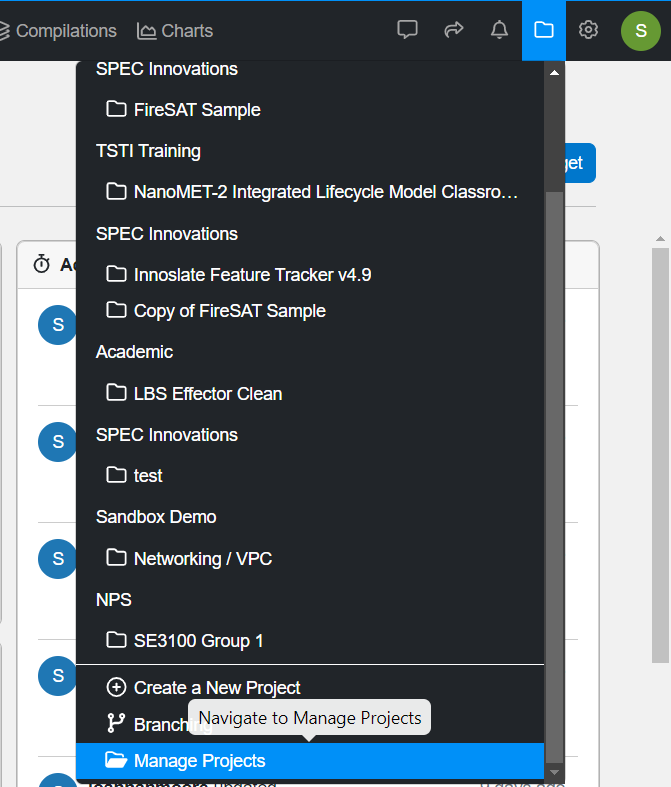 2. On the 'Manage Projects' page, click the 'Switch Organizations' dropdown menu in the upper right corner and select the organization you would like to be in from the dropdown.

3. Once in your desired organization, click on the name of the project you want to view
(if one is created).
⚠️ To easily access another organization that you have access to, simply enter the URL in your browser's address bar. For instance, you can directly go to the dashboard of that organization on Innoslate Cloud by using the following link and entering the organization's URL slug where it specifies "organizationname": 'www.cloud.innoslate.com/organizationname/dashboard'
To continue learning about Innoslate Concepts, Click Here.
(Next Article: Projects)