Mastering Navigation in Innoslate's Documents View
Document Content
Upon opening a document, the view displays the content associated with the document. The document's content is located in the central section of the view, as indicated below.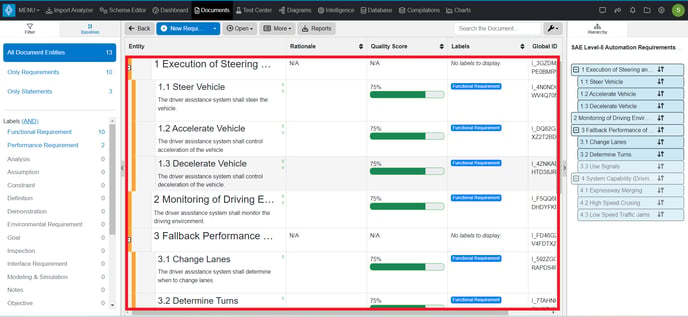 The areas surrounding the document provides various options to interact with the document and utilize Innoslate's features for the document.
The first tab on the left sidebar is for filtering the document based on class and/or labels.
The second tab on the left sidebar is to navigate through the document's baselines.


The top toolbar provides options to enhance the document such as adding entities to the document and view it as a diagram type using the 'Open' Dropdown.
The 'More' dropdown offers additional features such as automatic numbering and quality checking of your requirements with Innoslate's Quality Check.
The 'Reports' button allows you to export your document in various formats.
Moreover, the 'Settings' Dropdown (wrench) enables you to customize the columns you're viewing, switch to Paper Mode, and more.
Document Minimization and Right Sidebar
The right sidebar provides the ability to visualize the hierarchy of the document and rearrange entities by dragging and dropping them. Users can also expand or collapse the children of parent entities to make navigation within the document, or on the right sidebar, more convenient.
In the image below, the expand/collapse buttons are circled and the drag and drop feature is indicated on the right sidebar with a red arrow.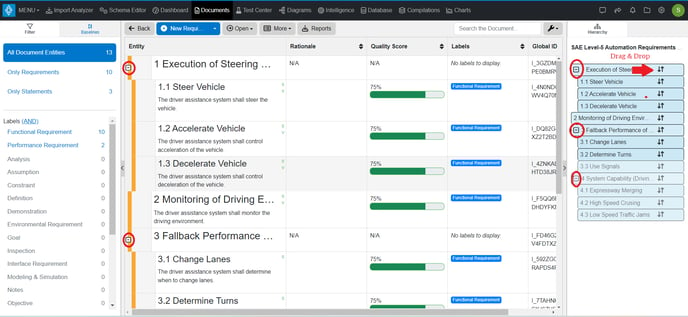 Entity Specifications
Once a specific entity is selected in the central view, the left sidebar will automatically adjust, allowing modifications to that entity.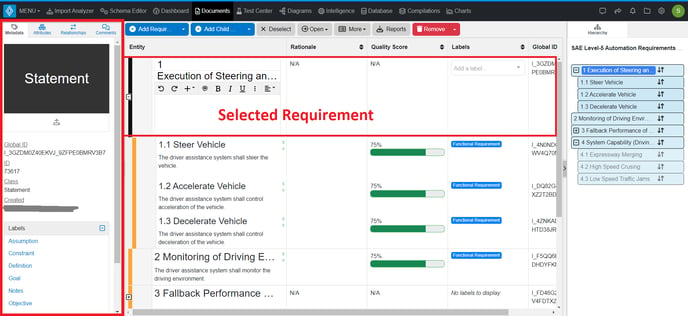 There are four tabs available on the left sidebar to allow modifications to the entity in this view. These tabs include the Metadata tab, Attributes tab, Relationships tab, and Comments tab.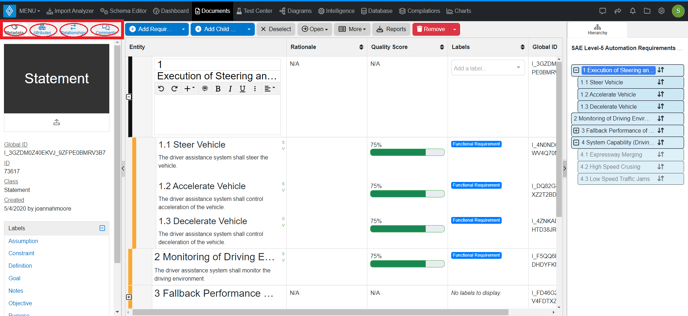 Note, hovering over the top of the tabs will reveal a small arrow, enabling the ability to rearrange the tabs between the left and right sidebars.

To click out of a requirement, click on the 'Deselect' button on the top toolbar.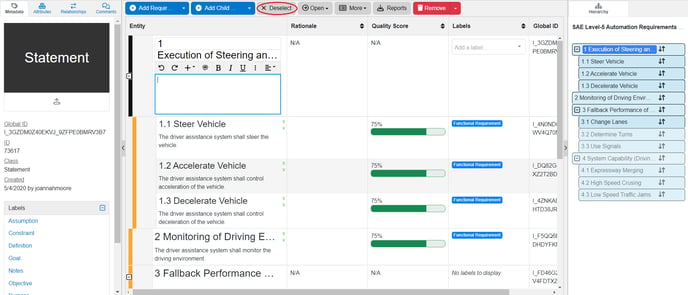 Or move on to the next entity within the document to modify it.
Document Save
Once changes have been made to all the entities in the document, simply click on the 'Save' button, or 'Cancel' if needed, to save the modifications.
Note, the 'Save' or 'Cancel' buttons will only appear if changes have been made and have pressed 'Deselect.'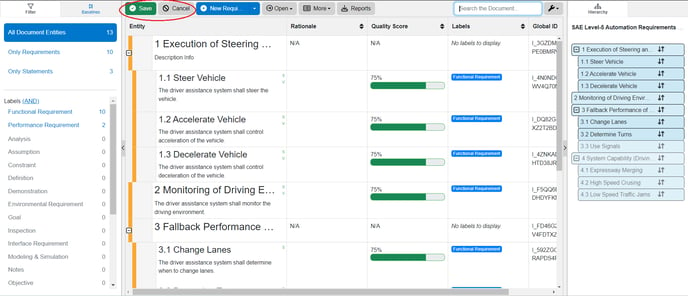 For further information on Documents View's features, please visit this here.