Understand the Project Management Plan Document's purpose and usability on Innoslate
The Project Management Plan on Innoslate is one of seven document types that can be used in documents view. It is a crucial tool for defining the approach to be used by the project teams. It helps outline the entire plan to be executed by the project team and stakeholders. This article will illustrate the purpose of the Project Management Plan Document Type in Innoslate and provide an overview of the available templates in Innoslate's Documents view.
Comprehending the Project Management Plan Document Type
The Project Management Plan Document Type serves several essential functions in any project:
Project Oversight: The plan enables project managers and stakeholders to oversee and control the project's progress by setting a clear framework of expectations and deliverables.

Defines Project Approach: It outlines the approach and methodology to be adopted by the project team, thus providing a roadmap for project execution.

Resource Planning: It aids in resource planning, ensuring efficient allocation and use of available resources.

Risk Management: The plan helps identify potential risks and outlines strategies to mitigate them, ensuring smooth project execution.
Template Options in Innoslate's Documents View
Innoslate's Documents view provides several templates to aid in the creation of a comprehensive Project Management Plan:
1. AV-1: The AV-1 template, following the Department of Defense Architecture Framework (DoDAF), is designed to capture and articulate the overarching aspects of a project or mission, including project vision, goals, objectives, and time-related information. It provides a high-level view of the project and can be used to support decision-making throughout the project lifecycle.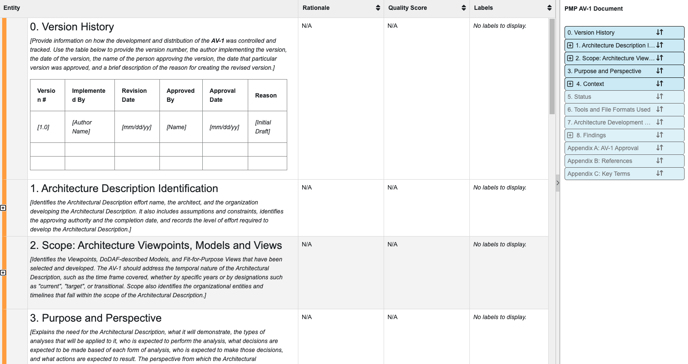 2. CDC Project Management Plan: This template, aligned with the standards set by the Centers for Disease Control and Prevention (CDC), provides a comprehensive framework for managing public health projects. It emphasizes areas such as project scope, timelines, budget, communication, quality management, and risk management.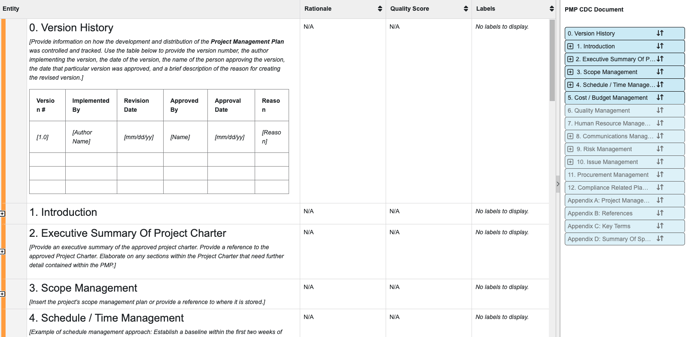 3. NASA Project Plan: This template, developed according to NASA's project management best practices, includes sections for defining project objectives, responsibilities, schedules, resource allocation, and risk mitigation strategies. It's specifically designed to facilitate the management of space-related and research projects.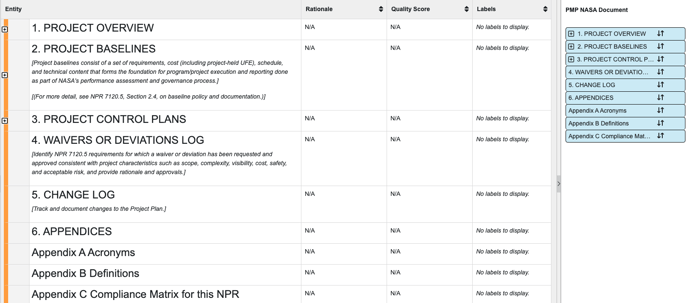 The Project Management Plan Document Type is a key tool for any project in Innoslate. Using the available templates in Innoslate's Documents view, project managers can effectively plan, execute, and control their projects, ensuring successful project outcomes.
To continue learning about Documents View, Click Here.
(Next Article: Standard Operating Procedure Document)